Morris and Nagy Prepare for Black River Stages
Driver Has Already Clinched M1 Class Championship
Harrisville, NY. Brad Morris (Charlotte, NC) and Doug Nagy (Rancho Santa Margarita, CA), head to upstate New York to compete at the Black River Stages Rally on the 19th and 20th of September. Morris has already clinched the M1 class championship for drivers of two wheel drive cars in the NASA-sanctioned series, while Nagy has a handsome lead in the race for the codriver title.
The pair won their last event together, Rally Tennessee, last May, as well as earning the class win at the March Madness Stages last March in Florida.
"We've built a solid relationship in the car," observed Morris. "It's gratifying to see how well we connected, and how quickly. This teamwork is what made it possible for us to do so well in competition. We plan to continue racing together and hopefully winning together! Next stop: New York!"
Geography prevents driver and codriver from getting together between rallies (they live on opposite sides of the country) which makes their success harder to achieve.
"Brad has a smooth, consistent driving style that is conducive to fast stage times," explained Nagy. "I'll keep up with him on the notes and he'll keep with up with some of the the four wheel drive cars!"
He added, "The team just switched to Yokohama tires (available from
StreetwiseParts.com
). We know that with their tires on the car we can expect a higher overall finishing position."
The 2002 Lancer is prepared by the Morris Motorsports Group in North Carolina, with engineering support, performance parts, and west coast preparation by Streetwise Motorsports. They receive valuable support from Promotional Management Group,
StreetWiseParts.com
, Larry J Mitsubishi in Charlotte, Performance Friction brake pads, and Carquest Auto Parts.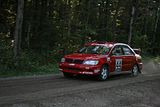 ---